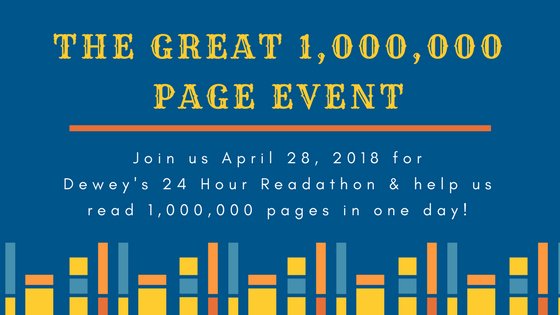 If you have never heard of Dewey's Read-a-thon, its cool because i just heard about it a few days ago.
So the short version of this, is it is a reading challenge that is on 24 hours. You read as much as you want/can and post on social media and other outlets about the books you are reading and what you have finished. As noted in the photo above, the end goal is to reach 1,000,000 pages read in a day! Exciting right?
The challenge is today, which actually works out for me. Why? Well today is Independent Bookstore day and there 2 local bookstores, I shop from. Let's just say Bookoutlet had an amazing sale that I couldn't pass up. So book money is tight.
But none the less, the purpose of this post, is to share with you what I plan on reading today and to of course encourage you to read and share you readings on social media using #readathon and tagging @readathon is you are using twitter. Of course, I have been a big vague in this challenge, so you can find more details here .
Enjoy my book selection. I look forward to reading with you all <3